Neelam
Khan M.D.
Internal Medicine
Diplomaté American Board of Internal Medicine

S. Ahmed
Tejan-Sie M.D.
Internal Medicine
Diplomaté American Board of Internal Medicine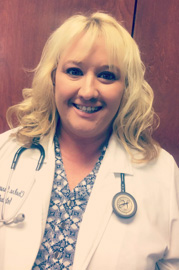 Chelsa B
Boswell, ANP-C
Nurse Practitioner

Amanda
Shirley, FNP-C, DNP
Family Nurse Practitioner
The Department of Internal Medicine at Alliance Medical Associates, LLC provides personalized primary and specialty care to adult and geriatric patients. Our internal medicine specialists are experts in basic and complex medical conditions and provide a range of services including preventive screenings, immunizations, acute care and chronic disease diagnosis, counseling and treatment.
An internal medicine physician is a personal physician who provides long-term, comprehensive care in the office and the hospital, managing both common and complex illness of adolescents, adults, and the elderly. Internists are trained in the diagnosis and treatment of cancer, infections, and diseases affecting the heart, blood, kidneys, joints and digestive, respiratory and vascular systems. They are also trained in the essentials of primary care internal medicine which incorporates an understanding of disease prevention, wellness, substance abuse, mental health, and effective treatment of common problems of the eyes, ears, skin, nervous system, and reproductive organs.
It includes tasks such as:
Histories and physicals
Ordering and interpreting diagnostic studies, lab tests, x-rays, and rehab services
Treating common illness as well as chronic diseases and minor injuries
Prescribing medication and treatments extending to non-pharmacological therapies
Consulting
Education
Counseling
Diagnoses 
Our doctors Neelam Khan M.D. and S. Ahmed Tejan-Sie M.D. can treat anyone who experiences a mild symptom such as a minor sniffle or cough to those experiencing more severe symptoms such as ailments associated with chronic diseases. Please contact us today to schedule your appointment.