Sleep studies are tests that watch what happens to your body during sleep. The studies are done to find out what is causing your sleep problems. Sleep problems include:
Sleep apnea, when an adult regularly stops breathing during sleep for 10 seconds or longer. This may be caused by blocked airflow during sleep, such as from narrowed airways. Or it may be caused by a problem with how the brain signals the breathing muscles to work.

Problems staying awake, such as narcolepsy.

Problems with nighttime behaviors, such as sleepwalking, night terrors, or bed-wetting.

Problems sleeping at night (insomnia). This may be caused by stress, depression, hunger, physical discomfort, or other problem.

Problems sleeping during the day because you work at night or do rotating shift work. This sleep problem is called shift work sleep disorder.

Conditions such as periodic limb movement disorder, which is continuous or wild movements of the feet, arms, or legs during sleep.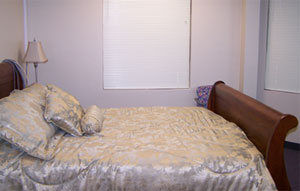 Sleep studies can also determine whether you have a problem with your stages of sleep. The two stages of sleep are non-rapid eye movement (NREM) and rapid eye movement (REM). Normally, NREM and REM alternate 4 to 5 times during a night's sleep. A change in this cycle may make it hard for you to sleep soundly.
The most common sleep studies are:
Polysomnogram.

This test records several body functions during sleep, including brain activity, eye movement, oxygen and carbon dioxide blood levels, heart rate and rhythm, breathing rate and rhythm, the flow of air through your mouth and nose, snoring, body muscle movements, and chest and belly movement.

Multiple sleep latency test (MSLT).

This test measures how long it takes you to fall asleep. A video camera is used to record movements during sleep.

Multiple wake test (MWT).

This test measures whether you can stay awake during a time when you are normally awake.
What happens when I have it?
The doctors at the sleep center will go out of their way to make you feel relaxed. You will be asked to come to the center in the evening. Some time will be given for you to make yourself at home in the bedroom. No other patients will be in the room with you. You will not feel any pain during the polysomnogram. The sensors are gently placed on your skin and connected to a computer. The wires are long enough to let you move around and turn over in bed. You will be asked to move your eyes, clench your teeth and move your legs. This will make sure that the sensors are working.
You are free to read or watch TV until your normal bedtime. Then the lights are turned out and it is time for you to try to fall asleep. A low-light video camera allows a technologist to see you from a nearby room. They will have to enter your room if a sensor comes loose. They will also have to detach the wires if you need to go to the bathroom during the night.
 Nearly everyone falls asleep during the study. Most people do not sleep as well as they do at home. This will not affect the results. In most cases, you do not need to sleep for a full eight hours to find the source of your problem.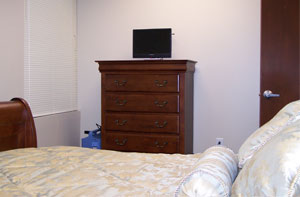 After testing is complete the following morning the sensors will be removed. This will complete the study, and you will be free to go. You may be tired if you did not sleep well during the night. Otherwise, you can return to normal activities on the day after a sleep study.
We offer one of the areas top Sleep labs.  Please contact us to schedule this service.